Talara Perú en Castellano
Ciudad de Talara
De Wikipedia, la enciclopedia libre
http://es.wikipedia.org/wiki/Talara
La ciudad peruana de Talara es la capital de la provincia de Talara.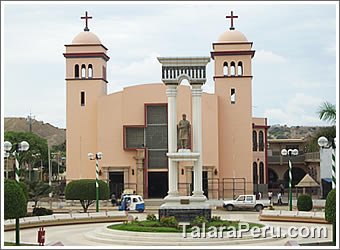 Retrato de Miguel Grau y detrás la catedral de Talara
La ciudad es un importante puerto petrolero que, en la década del 60 del siglo XX, llegó a producir más del 90% del petróleo peruano.
En la ciudad se encuentran la refinería y las plantas de almacenamiento de crudo más importantes de la costa norte del Perú.
Asimismo el puerto aloja una numerosa flota pesquera.
En la cercana localidad de Negritos se explotan varios yacimientos petrolíferos bajo la modalidad de contratos a terceros.
También se encuentra en su territorio una importante base de la Fuerza Aérea Peruana.
Provincia de Talara
De Wikipedia, la enciclopedia libre
Provincia peruana, es una de las ocho que conforman la Región Piura. Limita al norte con la Región Tumbes, al este con la provincia de Sullana, al sur con la provincia de Paita y al oeste con el Océano Pacífico.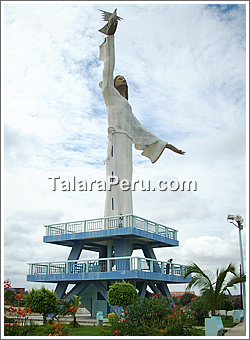 Estátua de Jesús en un parque en Talara Alta
División Administrativa
La provincia tiene una extensión de 2.799,49 kilómetros cuadrados y se divide en seis distritos.
Pariñas
El Alto
La Brea
Lobitos
Los Órganos
Máncora
Geografía
Talara se encuentra en tierra de tablazos desérticos y densos bosques de algarrobo que pueblan quebradas siempre secas. Dentro de su territorio se encuentran algunas de las playas más visitadas de esta parte de la costa: Máncora, El Ñuro, Los Organos y Cabo Blanco.
Población
La provincia tiene una población aproximada de 140.000 habitantes.
Capital
La Capital de esta provincia es la ciudad de Talara.
Links
Talara Peru in English
The city of Talara
From Wikipedia, the free encyclopedia
http://en.wikipedia.org/wiki/Talara
Talara is a city in the Talara Province and Piura Region of northwestern Peru. It is a port city on the Pacific Ocean. As of 1993, its population is 103,200.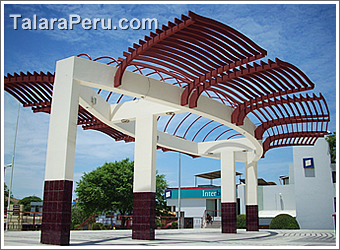 Plataforma en la plaza de Talara
Due to its oil reserves, and ability to produce aviation fuel, Talara was a major United States air base during World War II. The city still produces 70% of Peruvian petroleum. Talara is also home to a large fishing fleet.
It is served by the Captain FAP Victor Montes Arias International Airport.
Talara Province
From Wikipedia, the free encyclopedia
http://en.wikipedia.org/wiki/Talara_Province
Location in the Piura Region
Founded March 16, 1956
Capital Talara
Area 2,799.49 km²
Population
Total 147,900 (2002 estimate)
Density 52.8/km²
Subdivisions: 6 districts
Website: www.munitalara.gob.pe (in Spanish)
Talara is a province in the Piura Region, Peru. It is bordered by the Pacific Ocean on the west, the Paita Province on the south, the Sullana Province on the east and the Tumbes Region's Contralmirante Villar Province on the north. Its capital is the port city of Talara.
Attractions
The province has tourist attractions such as the Máncora beach resort, Cabo Blanco beach, Punta Balcones, Pariñas Forest, Amotape mountains, a whale fossils deposit, Plataforma del Zócalo Continental, Talara Refinery and the
Talara Civic Centre. Talara has the greatest reserve of oil in all Peru.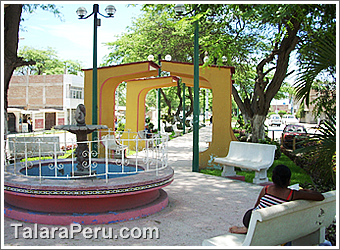 Parque en la ciudad de Talara
Punta Pariñas, the westernmost point in mainland South America, is located in the province's La Brea District.
Climate
The Talara Province has a yearly average temperature of 25°C.
Political division
The Talara Province is divided into six districts (Spanish: distritos, singular: distrito), each of which is headed by a mayor (alcalde):
El Alto
La Brea
Lobitos
Los Organos
Mancora
Pariñas
Transportation
It is linkied to the rest of the country by various highways and the Capt. FAP Victor Montes Arias Airport
Links
Municipality of Talara (in Spanish)
http://www.munitalara.gob.pe